Some of the visitors and music-lovers near the Natchez Trace Parkway have taken historic, cultural, and musical preservation to a whole new level. We're talking about the Americana Music Triangle… Where History Made Music…Then Music Made History.
The Americana Music Triangle project connects people, places and stories of the top music destination: the Southeastern United States, specifically points of interest between Nashville, Tennessee, New Orleans, Louisiana, and Memphis, Tennessee.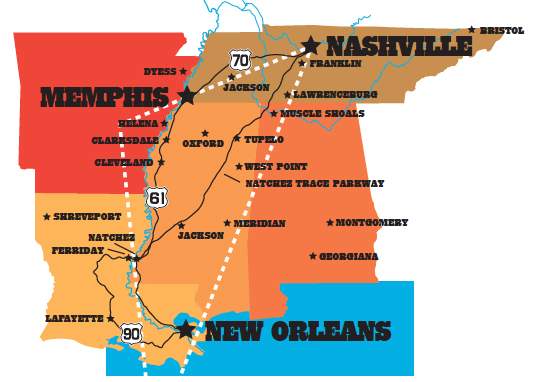 Blues, jazz, country, zydeco, gospel, and everything in between can be found in this special corner of the southeastern United States. Experience this unique music triangle through its world-famous music landmarks, tucked-away locations, and one-of-a-kind stops. The best part? A huge chunk of the 444-mile Natchez Trace Parkway runs right through these musical points of interest, so you can enjoy the scenic Trace and the history of the musical legends that have made it famous.
Check out page 28-29 of this digital issue from Byways Great American Roads featuring the Americana Music Triangle and the Parkway!
Along the Americana Music Triangle, you'll find the city where jazz was officially born, otherwise known as New Orleans. You'll find homes of blues legends in the Delta, and one of the most influential recording studios in Muscle Shoals, Alabama. Stop for a evening in Nashville, Tennessee to catch a great show in "Music City." If you're headed further south, get to know the "King of Rock n' Roll" in Elvis Presley's hometown of Tupelo, Mississippi.
No matter what kind of music gets your foot tapping, you'll find exciting live performances and beautifully preserved musical hotspots along the Natchez Trace and Americana Music Triangle. Not sure where to start? Check out the great driving trails and suggested itineraries on the AMT website for some inspiration.
Travel the Trace and check out our friends at the Americana Music Triangle to pick up a tune and see what strikes a chord for you. You're sure to find an exciting, historic, wonderfully audible adventure!
For more info, call 866-TRACE 56 (866-872-2356). Download your free Visitors Guide here.
Trace Blog
Posted on October 19, 2017

Posted on October 6, 2017