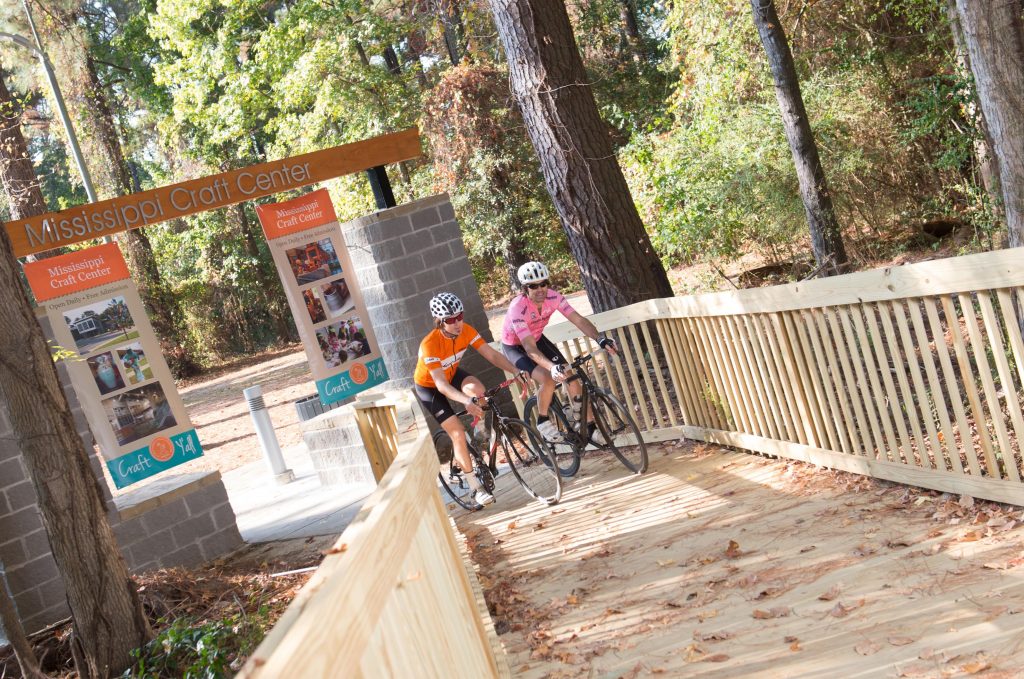 Our shining city on the Natchez Trace offers discerning travelers an unexpected melding of nature and style. Outdoor adventure and upscale architecture. Historic trails and modern design. In fact, Ridgeland was designed to make the most of Mississippi's beautiful weather, bringing the outdoors in and the indoors out.
Take a look at our Natchez Trace to Ridgeland itinerary here.
From open air shopping to serious cycling, sailboats to spas, patio dining and custom cocktails to the Bill Waller Crafts Center, we've got everything under the sun.  All that gives you the luxury to explore … Inside + Out.
Ridgeland is proud to offer outstanding service and hospitality to its visitors. Ways to paint the town are endless with miles of unique shopping, delightful dinging and incredible accommodations.
The Bill Waller Crafts Center features works of over 150 artisans, who are members of the Craftsmen's Guild of Mississippi. The multi-million dollar center features artisan works, a blacksmith shop, a woodworkers shop, meeting space, outdoor demonstrations and exhibits.
The city is full of excitement during their many annual events such as the Art, Wine and Wheels Weekend, which provides art enthusiasts the opportunity to view and purchase artwork from the nation's premier artists.
The north shore banks of the Barnett Reservoir wind along the Natchez Trace Parkway and greet visitors with natural beauty and outstanding recreational opportunities.
Be sure to visit the Ridgeland Visitor Center located in the Renaissance at Colony Park, a vibrant venue for shopping, dining and entertainment.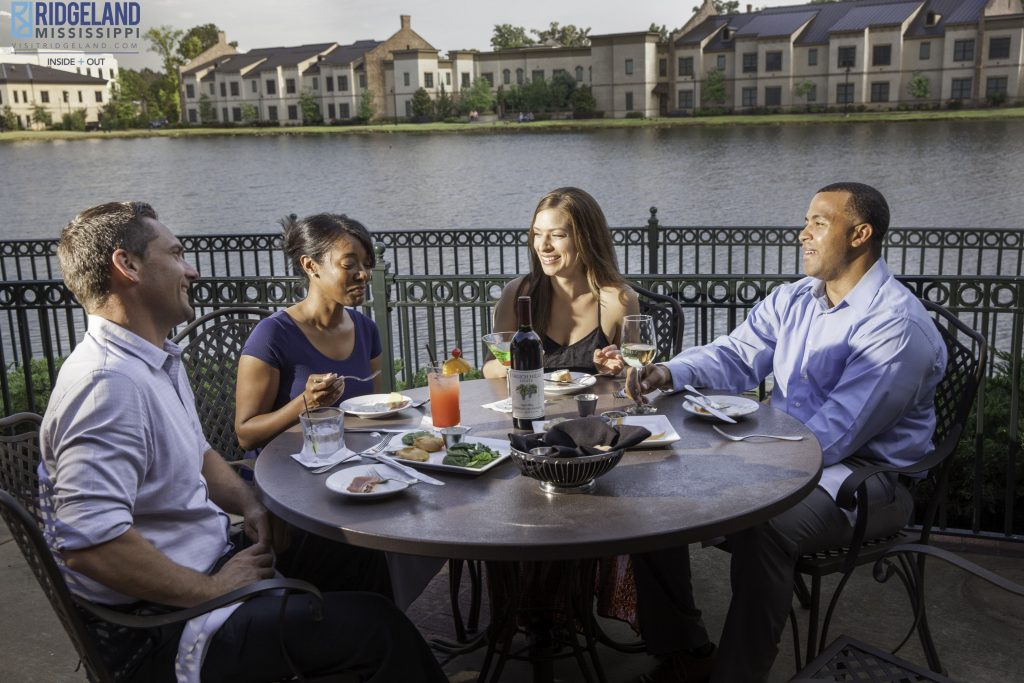 Ridgeland Tourism Commission
800.468.6078
www.visitridgeland.com
Whataburger – Ridgeland, MS
Whataburger 800 East County Line Road 601-956-6466 7 days a week: 24 hours a day whataburger.com
Little Caesars Pizza – Ridgeland, MS
Little Caesars Pizza 400B Highway 51 North 601-853-8766 7 days a week: 10:30 am – 10 pm littlecaesars.com
4 Top Catering – Ridgeland, MS
4 Top Catering 601-968-7575 4topcatering.com
A Catered Affair – Ridgeland, MS
A Catered Affair 854 Centre Street, Ste 2A 601-212-0016
Starbucks – Ridgeland, MS
Starbucks 990 Highland Colony Parkway 601-853-6911 Mon-Sun: 6 am – 9:30 pm
Starbucks – Ridgeland, MS
Starbucks inside Barnes & Noble 1000 Highland Colony Parkway, Ste 3009 601-605-4028
Ridgeland Coffee Co. – Ridgeland, MS
Ridgeland Coffee Co. 377 Highway 51 North 601-856-7374 Mon-Sat: 7 am – 2 pm
M7 Coffee House – Ridgeland, MS
M7 Coffee House 111 North Wheatley 601-790-7971 Mon-Thurs: 6:30 am – 10 pm Fri: 6:30 am – 11 pm; Sat: 8 am – 11 pm; Sun: 10 am – 6 pm
Fusion Coffee House – Ridgeland, MS
Fusion Coffee House 1111-A Highland Colony Parkway 601-856-6001 Mon-Fri: 6:30 am – 7 pm Sat: 7:30 am – 7 pm; Sun: 1 pm – 6 pm fusioncoffeehouse.com
Cups an Espresso Café – Ridgeland, MS
Cups an Espresso Café 7000 Old Canton Road, Ste B 601-707-5396 Mon-Sat: 6 am – 9 pm Sun: 7 am – 9 pm cupsespressocafe.com
CC's Coffee Shop – Ridgeland, MS
CC's Coffee Shop 344 Highway 51 601-707-3685 Mon-Fri: 6 am – 7 pm Sun: 7:30 am – 6 pm ccscoffee.com
The Whimsy Cookie Company
The Whimsy Cookie Company 1000 Highland Colony Parkway, Ste 5005 601-499-1955 Mon-Thurs: 10 am – 7 pm Fri-Sat: 10 am – 8 pm; Sun: 1 pm – 6 pm Sugar cookies baked and decorated by hand whimsycookieco.com
Super Shakes – Ridgeland, MS
Super Shakes 141 Township Ave 601-853-6122 Mon-Fri: 7 am – 8 pm Sat: 9 am – 6 pm mysupershakes.com
Shipley's Donuts – Ridgeland, MS
Shipley's Donuts 775 Lake Harbour Drive 601-790-7611 7 days a week: 5:30 am – 6 pm Yeast, cake and filled donuts, plus kolaches, espresso drinks and smoothies
Rocky Mountain Chocolate Factory – Ridgeland, MS
Rocky Mountain Chocolate Factory 1065 G Highland Colony Parkway 601-707-5139 Mon-Thurs: 10 am – 8 pm Fri-Sat: 10 am – 9 pm; Sun: 12 pm – 6 pm rmcf.com
The Prickly Hippie 500 Highway 51, Ste F 601-910-6730 Tues-Sat: 8 am – 6 pm Sun-Mon: Closed Cacti and succulents; specialty cakes, cupcakes and sweet treats pricklyhippie.com
Pillow Donuts – Ridgeland, MS
Pillow Donuts 707 Beau Pre Drive 601-790-9697 Mon-Sun: 5 am – 5 pm
Menchie's Frozen Yogurt – Ridgeland, MS
Menchie's Frozen Yogurt 733 Lake Harbour Drive, Ste H 601-853-7505 Sun-Thurs: 12 pm – 9 pm Fri-Sat: 12 pm – 10 pm menchies.com