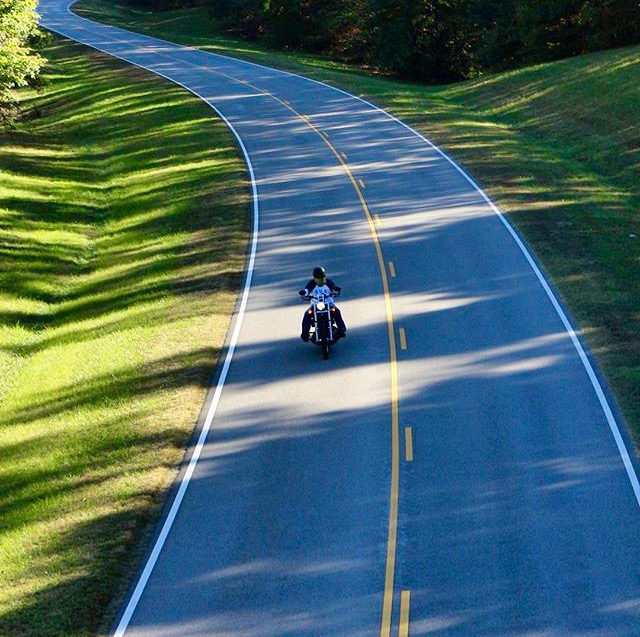 The Natchez Trace Parkway is the ultimate motorcycle ride. This 444-mile historic route from Natchez to Nashville, TN winds its curvy roads through beautiful scenery, historic sites, unique attractions, with places to stay and delicious restaurants. What more could you ask for in a motorcycle ride?
Riders from all walks of life enjoy cruising the Natchez Trace and appreciate its incredible journey. Because riders can choose to travel across three states or go a shorter distance with stops along the way, it leaves for an unique experience.
So why should you travel the Trace by motorcycle?
The drive is smooth and relaxing. Traffic is generally light and you don't have to worry about stop signs or stop lights. It's quiet and peaceful… Just keep cruising and enjoy the breeze blowing through your hair. The Parkway is clean and smooth, so you won't be tackling bumpy roads.
The natural beauty is remarkable. All along the route visitors can experience natural, rare beauty only found in a place like the Natchez Trace. Riders get to see forests, farmland, creeks and pretty vistas. Take a break and notice the great outdoors right before you.
We can't forget to mention the seasonal flowers and foliage! In the spring, it's all about the blooming dogwoods. Come autumn, bright fall foliage is beautifully dotted along this scenic byway.
The route is rich in history. Travel through 10,000 years of North American history when you drive the Natchez Trace. You can easily stop at the designated mileposts for a step back in time. Numerous side roads take you past antebellum and victorian homes, sunken roads, civil war battlefields and southern towns.
The communities offer a good night's sleep and a good meal. If your motorcycle trip is more than 24 hours, conveniently hop off the Natchez Trace to visit the corridor communities and refuel. Whether you're in Mississippi, Alabama or Tennessee, you can find a nice place to stay and tasty bite to eat.
Need a gasoline or a restroom? No problem! From Natchez to Nashville, restroom facilities, gas, and supplies are available. Take a look at the handy dandy list of gas stations and rest stops along the Natchez Trace Parkway.
For visitor information or questions about motorcycling the Parkway, give us a call at 866-TRACE 56 (866-872-2356). Download your free Visitors Guide.