A hiking heaven.
For your hiking enjoyment, the Natchez Trace Parkway offers over 25 nature and guided trails that range from 1/8 to 2.5 miles. You'll find five hiking sections of the Natchez Trace National Scenic Trail connected by the Parkway, totaling over 60 miles. In fact, the Natchez Trace has consistently been named Best Hiking Area in Mississippi!
The Natchez Trace offers genuine opportunities to explore diverse natural environments that include wetlands, swamps, Spanish moss, hardwood forest, rock outcroppings, and overlooks. In some places you can even walk along the Old Trace itself and follow the footsteps of those that have walked hundreds, and even thousands of years before you.
We strongly encourage you to visit the sparkling waterfalls during your hike, as well. Winding 444 miles through Mississippi, Alabama and Tennessee, there are so many places to experience nature and the great outdoors during your hiking adventure.
Where To Hike
The Natchez Trace National Scenic Trail features five hiking trails: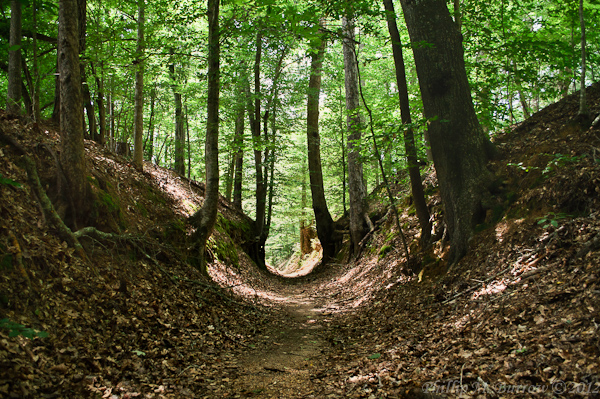 In addition to the National Scenic Trail, you'll find self-guided nature walks on the Trace that offer natural, rare beauty. Many of the interpretive sites and attractions provide hiking trails for an incredible trek through history and scenic charm. It's up to you whether you're interested in a rigorous hike, or a leisurely walk — that's the "beauty" of the Natchez Trace!
Ready to take a hike?
Hiking along the Natchez Trace Parkway is most popular during spring and summer, but generally temperate weather makes it enjoyable year round. No matter when or where you decide to go, one thing is for sure: you'll have an awesome experience!
Plan your hike with travel itineraries and our Interactive Map.
Download your free Visitors Guide and watch videos.
Stay up-to-date with events and check out travel photos by following The Natchez Trace on Facebook, Twitter, and Instagram!
Trace Blog
Posted on August 27, 2020

Posted on August 21, 2020