When you visit the historic Natchez Trace Parkway, an All-American Road and National Scenic Byway, you'll discover spectacular views of foliage and wildlife that you won't find anywhere else.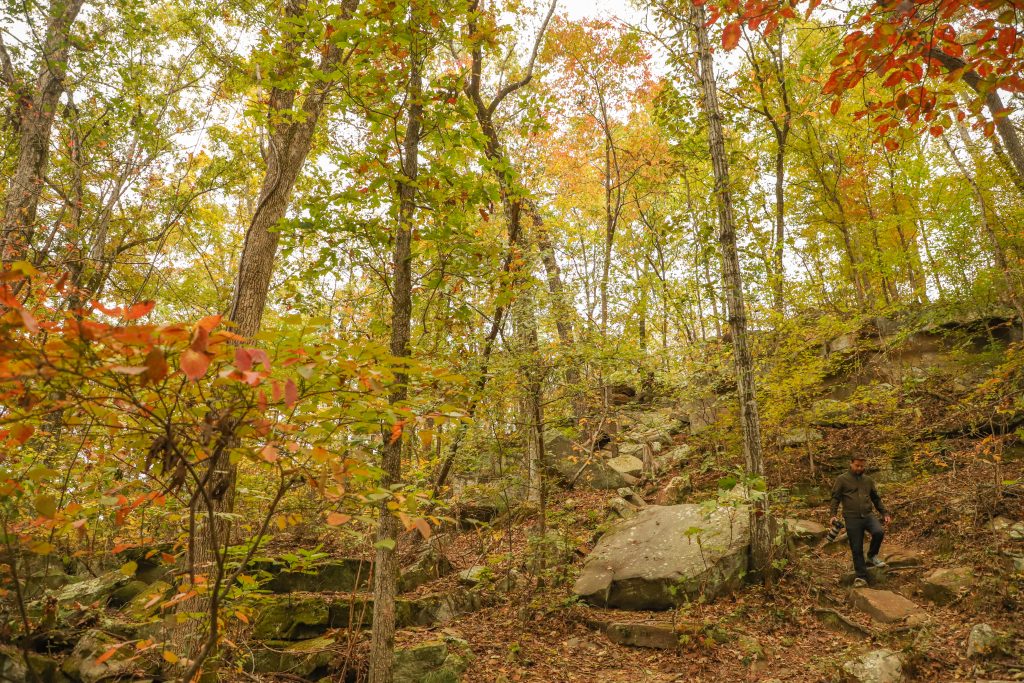 As a National Scenic Byway, a road recognized by the U.S. Department of Transportation for intrinsic qualities, including: archeological, cultural, historic, natural, recreational, and scenic — it's clear the Natchez Trace Parkway lives up to this recognition. This 444-mile route was recently named one of America's most America's most beautiful scenic byways and one of America's best drives. This fascinating parkway links Natchez with Nashville and crosses some of the most beautiful terrain in the states of Mississippi, Alabama, and Tennessee.
Fall Foliage
The magnificent fall colors of autumn come to life in middle to late October on the Natchez Trace Parkway. The maple, hickory, oak and other hardwood trees begin to change colors and visitors have the opportunity to view the brilliant fall foliage. The picturesque red and orange colors offer an unforgettable travel experience. If you make the Natchez Trace you're next fall foliage getaway–a wise choice–you won't be disappointed by its exceptional scenery. The Parkway's autumn backdrop provides amazing display of color for its visitors.
Our friends at NPS have a few suggestions on where to enjoy the foliage as well as an updated fall color report.
Dogwood and Redbud Trees, Wildflowers and Plants
In the spring, the Natchez Trace is set to bloom into full beauty as the sun peeks out and the temperatures rise. It's the perfect time to shake off the winter blues and have a look at the Trace's most prized natural treasures – the blooming dogwood and redbud trees.
During the spring months, the Parkway is vibrant with gorgeous dogwoods, redbuds, and wildflowers for all to enjoy. As you travel this 444-mile route, the flowering trees dotted along the way are a true treat. Whether your unhurried trip through time is by car, bike, or foot, take a moment to appreciate their natural charm and snap a picture or two.
While dogwoods may be springtime's popular treasure, the lush greenery of summer is a beautiful sight to experience during your Natchez Trace journey. And any time of year you're visiting, keep your eyes peeled for bountiful plants that are native to the Trace. Out of the 52,000 acres of the Parkway, almost 39,000 of those are maintained in a natural condition. The scenic route contains a huge and diverse array of plant species.
Wildlife
In addition to the natural beauty along this 444-mile scenic byway, the opportunity to view wildlife awaits you. You can find over 136 types of birds, from jewel-toned hummingbirds to lumbering flocks of wild turkey to graceful, long-limbed blue heron. There are over 200 mammals, herptiles, and fish species, including deer, fox, armadillo and coyote, and eight species federally listed as threatened or endangered.
If you want to get up close and personal with wildlife, there are over 25 nature and guided trails for your hiking enjoyment. There are also plenty of opportunities for camping and fishing along or near the Natchez Trace Parkway.
Ready to plan your trip? Come enjoy the ever-changing beauty of the park's vegetation, wildlife, and outdoor recreational opportunities. Download your free Natchez Trace Visitors Guide now!