When it comes to cycling, the Natchez Trace Parkway is your ticket to ride.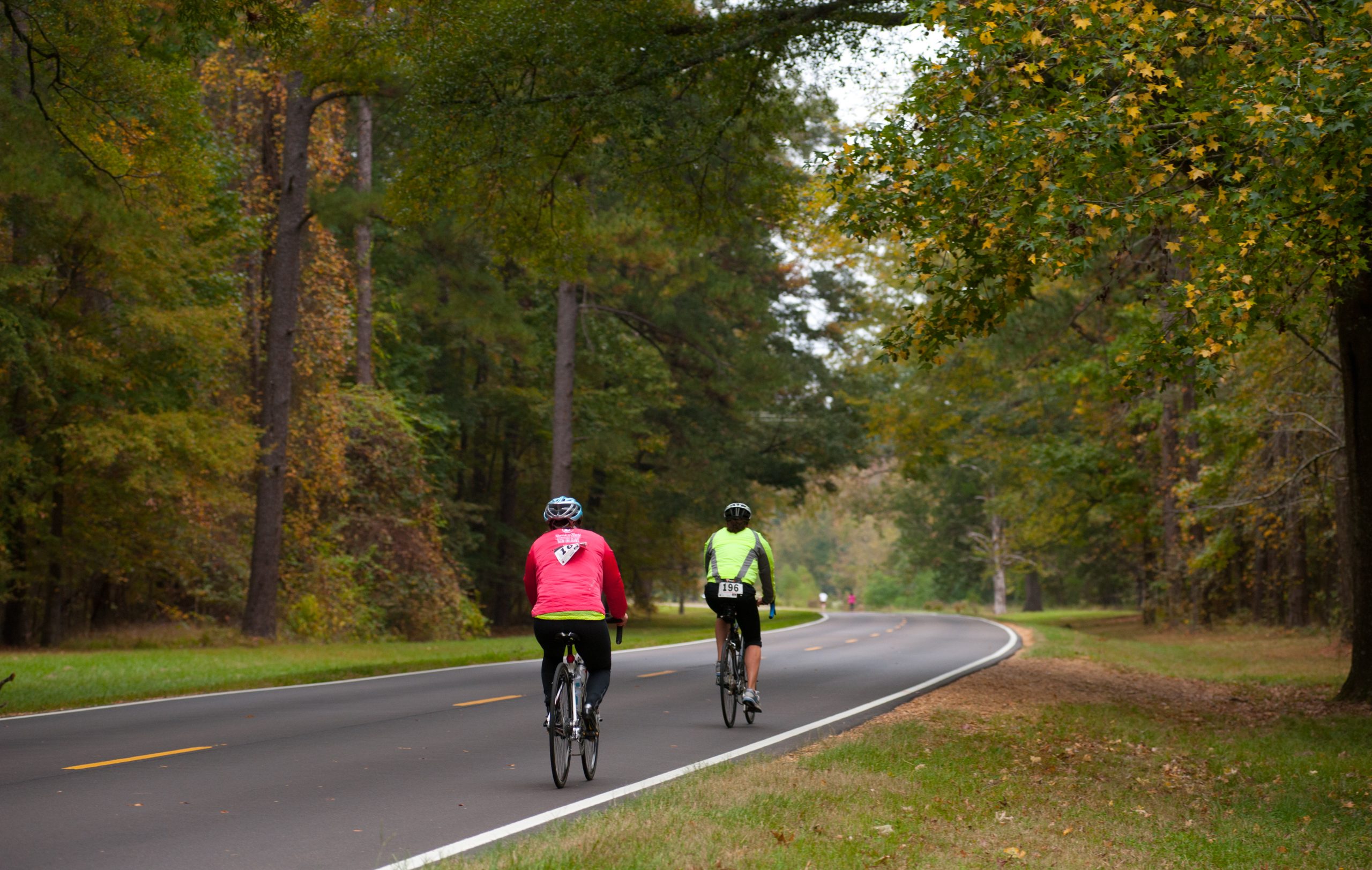 All bicyclists agree, pedaling out to cycle the scenic Natchez Trace Parkway offers an easy-going, easy-to-love experience. The National Park Service has designated the entire 444 miles as a bicycle route, where bicyclists can relax and enjoy an exceptionally scenic roadway, unspoiled by commercial signage or development, and offering up gorgeous vistas at every turn. Along the way, the Natchez Trace provides innumerable side trails and opportunities for fun in the great outdoors. There are even convenient bicycle-only campgrounds.
Whether it's digging into history at significant sites or digging into delicious dining and shopping in the charming communities along the historic route, there's no denying the Trace is one of America's favorite bicycle-friendly byways.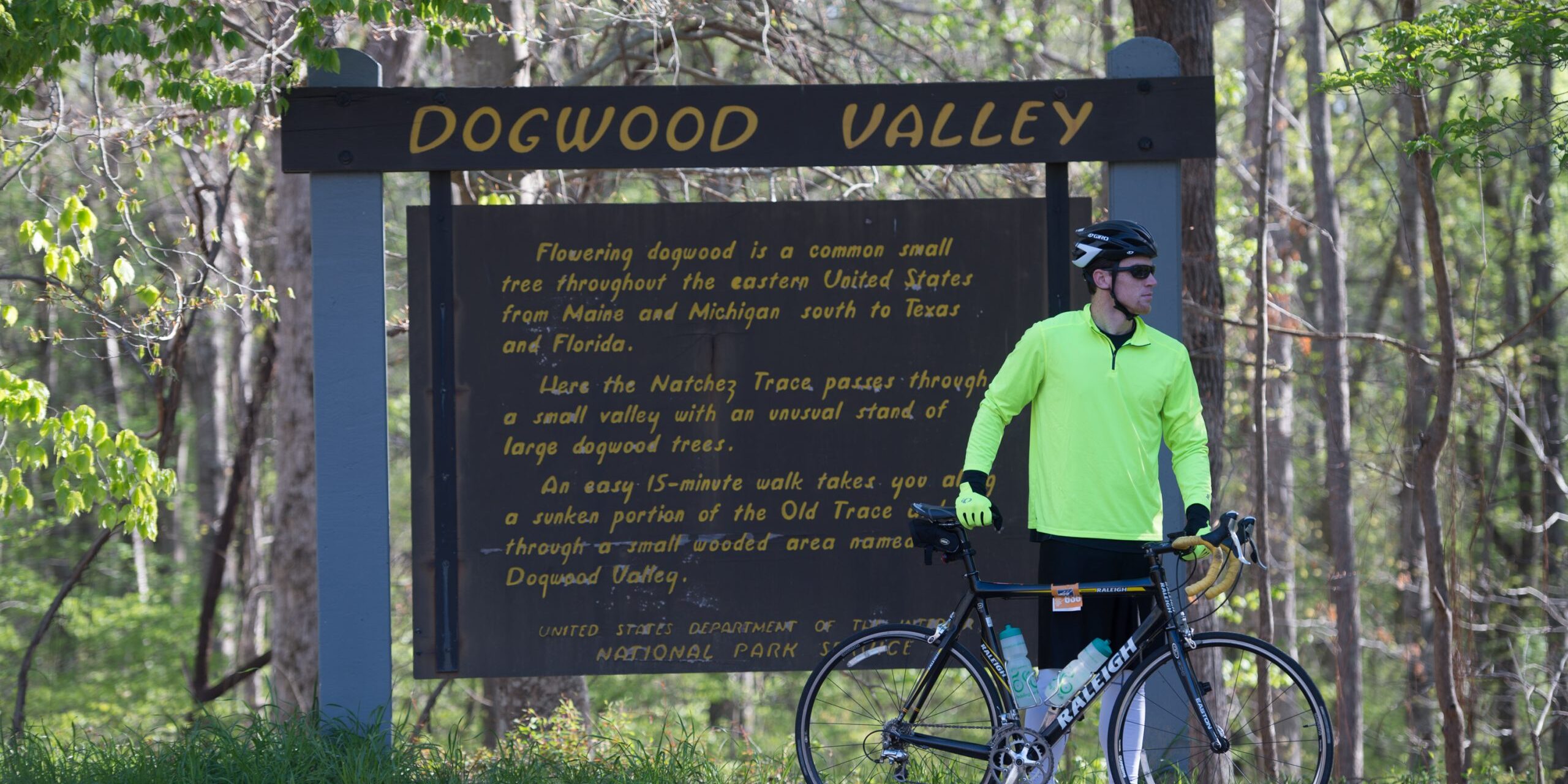 So why is the Natchez Trace an exceptional bike route? Here are 10 great reasons:
National Park Service designates the entire parkway as a bike route. Numerous signs instruct cars to share the road with bicycles.
Commercial traffic is prohibited.
Maximum speed limit for cars is 50 mph.
Motorized traffic is generally very light, however cyclists should plan ahead to avoid peak commuting times. (Specifically, Tupelo and Ridgeland, MS, areas between the hours of 7:00am – 9:00 am and 4:00 pm – 6:00 pm).
No stop signs or stop lights. Access on and off the Trace is via on/off ramps, which means intersections only occur at roads with minimal traffic.
The scenery is beautiful! Cyclists get to see forests, farmland, creeks and pretty vistas.
All along the Trace through Mississippi, Alabama and Tennessee, historical and nature attractions offer interesting breaks and rest stops.
Restroom facilities on the Trace are available about every twenty miles.
Numerous side trails take you past antebellum and victorian homes, sunken roads, civil war battlefields and Southern towns.
There are many "cycling friendly" bed and breakfasts located along and near the Trace.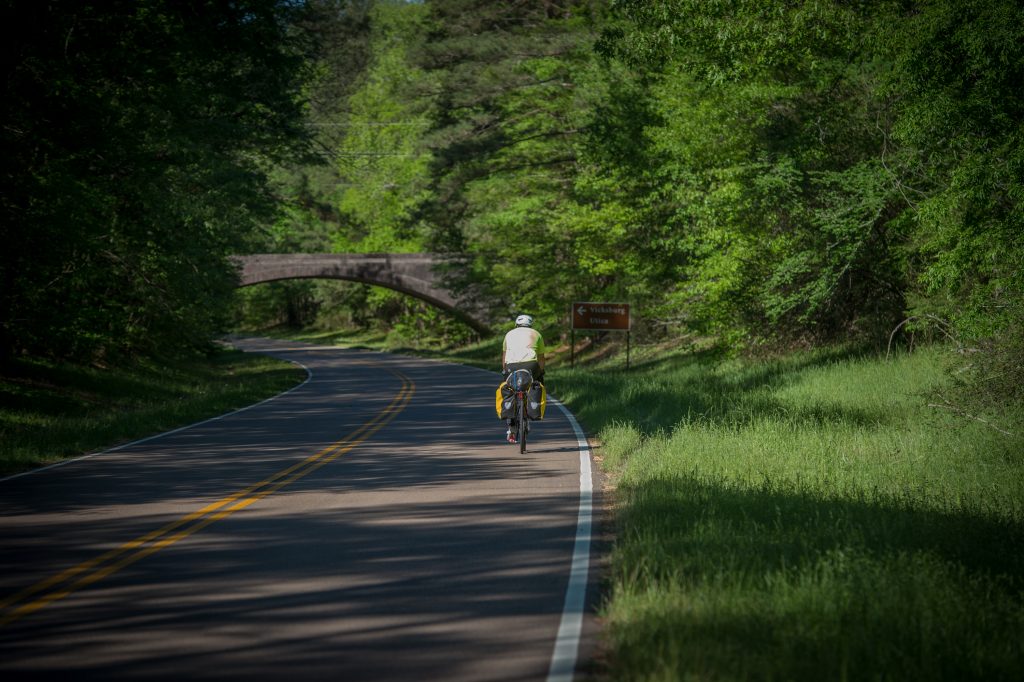 Lush deep shade and a curving scenic road are landscape features that make the Trace a pleasant recreational route for both motorists and bicyclists. No matter what age or experience level, the Natchez Trace is a wonderful route to hop on two wheels. And while the Parkway is a popular bicycling route, it's also a favorite with millions of visitors in vehicles. From NPS, here are some here are some tips for making the road safer and more enjoyable.
Also, here are 10 things you should know about bicycling the Parkway, and helpful Bicycle Services.
A reminder to our visitors to please be alert. Motorists should be alert for bicyclists, slow down and change lanes to pass when there is no oncoming traffic. Bicyclists should wear high visibility clothing, ride single file, and use front and rear lights to increase visibility. Take a moment to review these safety guidelines.
Group Rides
There are opportunities for exciting group rides like Ridgeland's annual Natchez Trace Century Ride in May. This is a fun event for families and riders of all ages. The annual Tour de Wayne in Collinwood runs through the Parkway in June, taking in sights on the Buffalo and Tennessee Rivers in 100-, 50- and 25-mile rides. In the spring, the annual Fuller Center Bicycle Adventure is a popular bike ride covering 400 miles of the Trace.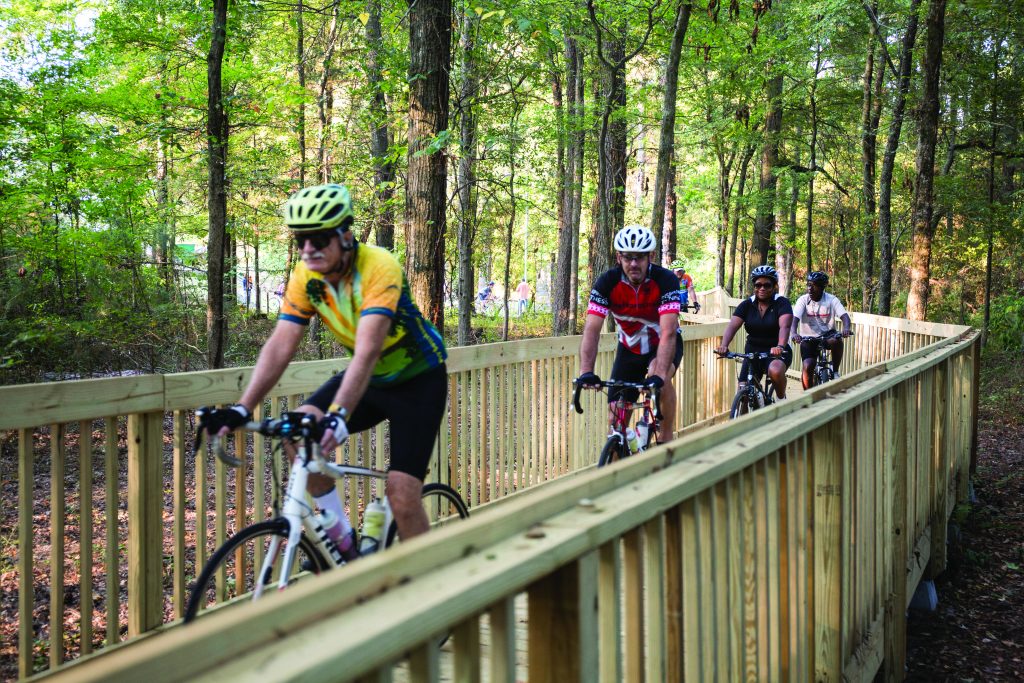 When To Go
For an optimal experience, choosing the right time of year is important. Most intrepid riders who want to cycle the entire Parkway in one trip do so in spring between late March and early May, or fall between late September and early November. Cyclists who want to ride during the cold winter months or hot summer months often choose to ride either the northern or southern segment of the Parkway only. Either way, you'll be sure to enjoy the beautiful views and adventure!
Where to Shop
There are five bicycle-only campgrounds strategically located along the route, equipped with tent sites, picnic tables and fire grates, with water available year-round inside Parkway restrooms. With all these campgrounds and nearby communities, cyclists can plan to ride between 30 to 60 miles daily and enjoy a welcoming rest at the end of the day.
For those cyclists who would prefer not to rough it, a little extra planning can put them in soft beds, enjoying home-grown hospitality each evening. B&Bs catering to Parkway travel, as well as excellent motel/hotel accommodations, can be found all along the 444-mile route. Wherever you decide to lay your head down at night, there are plenty of terrific places to fit your travel style! Be sure to also check out attractions and dining for the full historic experience (and a full belly).
So what are you waiting for? Hop on your bike and explore the Natchez Trace Parkway! Be sure to download your free Visitors Guide.