With 444-miles of scenic byway through the American Deep South, it's hard to list all the treasures you can find along the Natchez Trace Parkway. Lucky for all of us, there are tons of places for fun and interesting pit stops to stretch your legs and expand your horizons.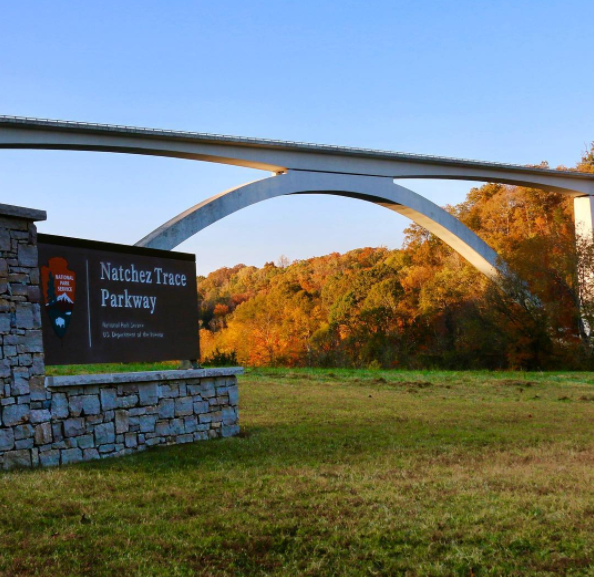 Some of our favorite spots on the Natchez Trace are the numerous wayside exhibits and interpretive signs. More than just a break from the trail, these sites offer a great way to learn while enjoying the natural, historic wonders of the scenic Trace.
Let's take a look at a few interpretive sites and wayside exhibits, following the trail of the Kaintucks, some of the Trace's early travelers from Natchez, Mississippi northbound to Nashville, Tennessee.
Mile Marker 0 – The Southern Terminus
Northward, ho! Your journey begins in Natchez, MS.
Mile Marker 10.3 – Emerald Mound
It is inaccurate to say that Emerald Mound was built by the Natchez Indians. What we know is that the mound builders were American Indians who lived in the Mississippian era. It is more accurate to label these people as Mississippian American Indians, than to call them Natchez.
Mile Marker 15.5 – Mount Locust
Hospitality: frontier-style. Before 1820, as many as 50 stands like Mount Locust were established to host weary, thirsty travelers. This site is one of the oldest structures still standing in an area known for historic homes. Stop and drink in the history.
Mile Marker 41.5 – The Sunken Trace
The Sunken Trace is one of the most photographed sites along the Parkway. The Trace appears sunken in this spot due to thousands of travelers walking on the easily eroded loess soil. This short trail will allow you to walk on the Natchez Trace just as thousands have before you.
Mile Marker 54.8 – Rocky Springs
Rocky Springs once was the point travelers said goodbye to "civilization" before they entered the "wilderness." Although the town was decimated by yellow fever, today there is an old church still standing, along with hiking trails, campsites, a stream and an old cemetery to explore.
Mile Marker 102.4 – Parkway Information Cabin
Visit a park ranger to help plan your visit and access the Chiska-Foka Multi-Use Trail.
Mile Marker 106.9 – Boyd Site
Here's a spot to dig deeper. Constructed during the late Woodland—early Mississippian period, from 800–1100 AD, Boyd Site is now home to one of 20 interpretive American Indian historic sites on the Parkway.
Mile Marker 122 – Cypress Swamp
A self-guided trail through a water tupelo/ bald Cypress Swamp. A lucky visitor may see an alligator on this half-mile trail with boardwalks.
Mile Marker 193.1 – Jeff Busby
When we say this is high point of your journey, we mean it, as this exhibit is located 603 feet above sea level at one of the highest points in Mississippi and the highest on the Parkway. At Jeff Busby, you'll also find a campsite and a hike up to a terrific view of the surrounding countryside.
Mile Marker 232.4 – Bynum Mounds
Bynum Mounds is a Middle Woodland period mound site located at Mile Marker 232.4. This archeological site consisted of six mounds, five of which were excavated in the 1940s. Two of the largest mounds have been restored, and you can see them today.
Mile Marker 261.8 – Chickasaw Village
Site Exhibits portray daily life and early history at the Chickasaw Village that once stood here.
Mile Marker 266 – Natchez Trace Parkway Visitor Center
The Natchez Trace Parkway Visitor Center has an orientation film and interpretive displays, as well as an Eastern National Bookstore. A park ranger is available everyday from 9:00am-4:30pm (closed Thanksgiving, New Year's, and Christmas Day.) They also have stamps for the Trail of Tears NHT which crosses the Parkway in four places.
Mile Marker 286.7 – Pharr Mounds
A truly awesome sight—and must-see site. A 90-acre complex of eight different burial mounds, built between 1,800 and 2,000 years ago during the Middle Woodland period, with four of the eight mounds excavated in 1966 by the National Park Service.
Mile Marker 304.5 – Tishomingo State Park
The park is named for a Chickasaw medicine man and warrior. This is one of Mississippi's best spots for camping, picnicking, hiking, canoeing, and fishing.
Mile Marker 308.4 – Cave Spring
This is considered an important historic site to the Chickasaw people.
Mile Marker 320.3 – Buzzard Roost Spring 
Exhibits tell the story of Levi Colbert, a Chickasaw man who owned a nearby stand. A short trail leads to Buzzard Roost spring.
Mile Marker 327.3 – Colbert Ferry
Today a spectacular bridge takes you across the Tennessee River, but in the early 1800's, George Colbert operated a stand and ferry at this spot. Colbert Ferry is a great place to enjoy a picnic by the river, find restrooms or use the boat launch.
Mile Marker 330.2 – Rock Spring
Rock Spring offers a short half-mile loop that takes you past Colbert Creek and away from the traffic of the Parkway.
Mile Marker 357.8 – Old Trace Drive
Take a spin on a true antique: This is one of two locations along the Parkway where visitors may drive "on" the Old Natchez Trace. (Not suitable for travel trailers.)
Mile Marker 385.9 – Meriwether Lewis Monument
The famous explorer led a dramatic life and died a mysterious death. Lewis was buried near Grinder's Stand and in 1848, a memorial was erected in his honor. Visit his gravesite and do some exploring of your own around campsites and self-guided walking trails.
Mile Marker 391.9 – Fall Hollow Trail
If you are interested in waterfalls, you will want to take a short walk on the Fall Hollow Trail. A five-minute walk will take you to a viewing platform to see a small, sparkling, waterfall. Those interested in continuing on will be rewarded with numerous cascades.
Mile Marker 401.4 – Tobacco Farm
You'll "leaf " this exhibit with a greater understanding of and appreciation for the crop that played a crucial role in America's agricultural and economic history. Be sure to see the exhibits at the farm and the barn.
Mile Marker 404.7 – Jackson Falls
A gorgeous view, and the hike to get there is a beauty, too: down and back up a 900 foot descent.
Mile Marker 407.7 – Gordon House
Built in 1818, the Gordon House is one of only two surviving historic buildings on the Natchez Trace Parkway.
Mile Marker 423.9 – Tennessee Valley Divide
When Tennessee joined the Union in 1796, this watershed was the boundary between the United States and the Chickasaw Nation.
Mile Marker 426.3 – Old Trace
View an 1812 memorial here.
Mile Marker 427.6 – Garrison Creek
Restrooms, horse and hiking trails and beautiful fall color highlight this section of the Natchez Trace.
Mile Marker 438 – Birdsong Hollow
This is not the first double arch bridge. However, it is the first segmentally constructed double arch bridge.  It won the Presidential Award for Design Excellence in 1995.
Mile Marker 442 – Northern Terminus
Journey's end—now it's time to plan your return! Time to celebrate another great adventure with southern cooking at the diner that sits at the northern terminus.