"2013 Best Scenic Roads" Features the Natchez Trace Parkway
Country Magazine released its 2013 Best Scenic Roads to show the most gorgeous scenic drives from coast to coast, and the Natchez Trace Parkway made the list.
For the explorer in you, they chose their top 10 intriguing drives from an impressive list of byways suggested by some of their favorite scenic photographers. We are thrilled the Natchez Trace Parkway is included!
The Natchez Trace Parkway winds through centuries of history, taking visitors through countryside and cities, past battlefields and barns. "Trace" is from the French for a line of footprints or animal tracks.
In use since pre-Columbian times, the trail was followed first by Native Americans seeking hunting and trading grounds, and later by early European and American explorers and immigrants. Today the 444-mile scenic road runs from Nashville, Tennessee, to Natchez, Mississippi.
Though much of the original trail is now unrecognizable, the parkway awaits modern-day explorers. There are no commercial vehicles allowed on the route, making it a slow, relaxing journey.
Years ago we traveled the Natchez Trace for almost a week, inhaling the sights as we did the fragrance of spring lilacs on dewy mornings. Off the main parkway, side roads provide access to remnants that the Indians, immigrants and armies left behind. Among the witnesses to America's fascinating past are archaeological sites, sunken roads, Civil War battlefields and memorials, historic plantations and Southern towns graced with lavish antebellum Victorian homes.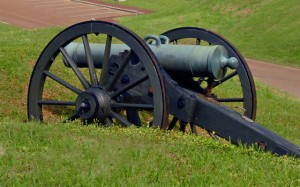 On a side road near Natchez, Emerald Mound was built more than two centuries before Columbus landed in America, and is the second-largest ceremonial earthwork in the U.S. This mound, like others in the South and Midwest, is thought to have been a center for religious and social events.
Another excursion took us to Vicksburg, a key Civil War site. We silently toured past rows of cannons. We gazed with respect and awe at the USS Cairo, a resurrected ironclad warship now at its final resting place as a museum along the Mississippi River.
On the Natchez Trace, you'll discover a fascinating history as old as the dirt under your feet. Along the way, amid exceptional scenery, you may even sense the strength of the settlers who set our country on its zigzag path to the present.
Natchez Trace Parkway is one of Country's 2013 Best Scenic Roads. Click here for the full list.