CNN Names Natchez Trace Parkway a Great American Road Trip
If you're planning to hit the road this summer instead of worry with pricey airfares, we say that's an excellent choice to make. The Natchez Trace Parkway leads you 444 miles through three states and 10,000 years of North American history, and has everything you've ever wanted in road trip, plus more! In fact, CNN Money just named the Natchez Trace Parkway one of six great American road trips.
The Natchez Trace Parkway follows the Natchez Trace, an old game trail that runs from southern Mississippi all the way to Nashville, through some of the Old South's most historic communities. Once you hop in your car and begin your relaxing and leisure drive, you have the opportunity to view gorgeous scenery and wildlife (don't forget your camera!)
If you want to take a step back in time, check out the historic stops along the way. Early 19th century boatmen used to sell their cargo and boats in Natchez or New Orleans and walk north back to their homes along the Trace. Today, you can walk these paths just as thousands have before you. One of the most photographed spots, "The Sunken Trace," appears sunken due to thousands of travelers walking on the easily eroded loess soil.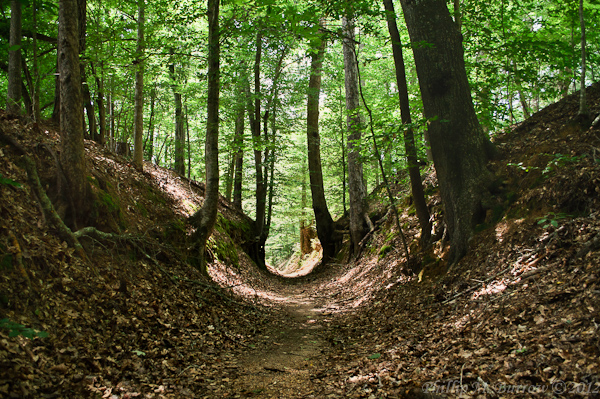 From the Trace, visitors can see antebellum plantations, both intact and in ruins; live oaks dripping with Spanish moss; Indian mounds; tobacco barns; and old cabins. At milepost 15 is Mount Locust, circa 1780, a preserved inn where boatmen would spend the night.
The road passes close by several good-size towns, like Jackson and Tupelo, MS, where there are plenty of places to overnight. Natchez itself is worthy of a stay — the city has just about 16,000 residents, but boasts 13 National Historic Landmarks and more than 1,000 places on the National Historic Register. That befits the oldest city on the Mississippi.
On the other end of the drive is Nashville, where country music lovers have dozens of clubs, honky-tonks and other live music venues to choose from. It's known as "Music City."
CNN also suggests some of the best roadside attractions you'll see along the way. Nearly a dozen mansions, all built between 1798 and 1861 and ranging in style from Caribbean to Greek revival, offer tours of buildings and grounds through Natchez Pilgrimage Tours.
There are also the more eccentric roadside attractions such as the Elvis statue in Tupelo, MS, the King's hometown. Elvis is reaching out with his right hand and touching it has rapidly become a popular tradition for his fans.
In Florence, AL along the Parkway, make plans to visit the Wichahpi Commemorative Stone Wall. Tom Hendrix has been building a stone wall for over 30 years in memory of his great-great-grandmother's journey. His great-great-grandmother Te-lah-nay was part of the Yuchi Indian tribe that lived near here along the Tennessee River in the 1800s.
Not only are there many places to visit along this 444-mile historic route, you can experience some of the most delicious restaurants in the South located just off the Parkway. From fried food to seafood, you'll find mouthwatering meals that you can't get enough of, like the Loveless Cafe at the end of the Parkway in Nashville, TN. They serve up the most scrumptious biscuits you've ever put in your mouth! After a day of traveling and a fully belly, rest up and take advantage at one of the available bed & breakfast accommodations.
The Natchez Trace Parkway is certainly a treat for all. This All-American Road and National Scenic Byway does not have stop lights, billboards, or large trucks–just beautiful scenery, outdoor recreational opportunities, 10,000 years of American history, and numerous places to eat, stay and shop. It makes for the ultimate summer road trip!
Interested in traveling the Trace? Call 866. TRACE56 (872-2356). Get social with us and like us on Facebook, and follow us Twitter and Instagram @TheNatchezTrace.