The Mississippi Lignite Mining Company (MLMC), which manages Red Hills Mine, recently donated $50,000 to the Parkway to rehabilitate trails in the area. The Red Hills Mine operates east of the Natchez Trace Parkway (Parkway) near the Little Mountain overlook at the Jeff Busby campground. In 2016, the Parkway entered into an agreement with MLMC to mitigate scenic impacts caused by mining activities near the Jeff Busby site. The National Park Service used the funds to help fund the Southeast Conservation Corps to conduct trail work.
"The Natchez Trace Parkway and MLMC have partnered since 2002 to conduct environmental monitoring on Parkway lands and waters," stated Superintendent Mary Risser. "Routine air and water quality monitoring has been conducted so that potential impacts from MLMC's mining activities could be detected and mitigated."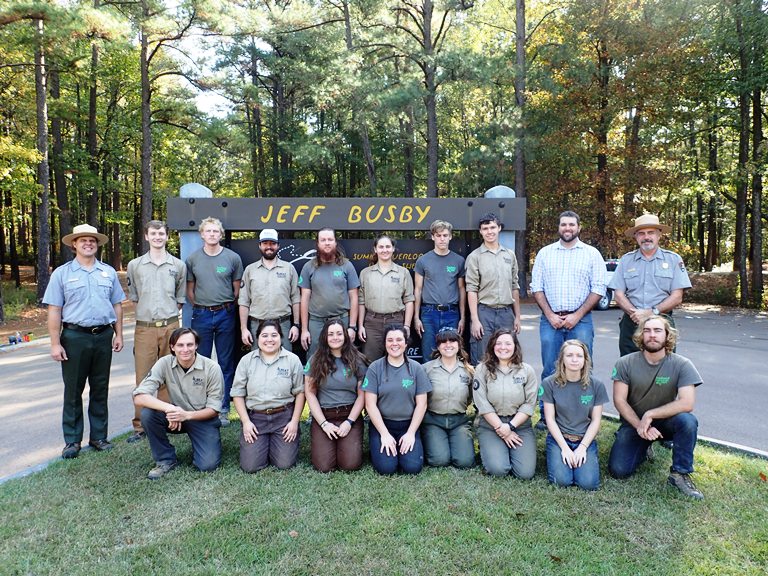 "In 2013, MLMC determined that a change in mining locations within the permitted mine area would mean that mining operations would be visible from Jeff Busby," explained Dr. Lisa McInnis, Chief of Resources Management. "They conducted a visibility assessment for the benefit of the Parkway to model potential impacts. As voluntary mitigation for the temporary impacts to the viewshed, MLMC donated $50,000 for recreational improvement and habitat restoration."
The Southeast Conservation Corps built new boardwalks and bridges, rerouted sections of the trail, and installed erosion prevention measures, such as water bars and steps. Several visitors who hike the trail have already complimented the hard work that the crews put into the improvements.
For more information, visit the National Park Service website at www.nps.gov