A dedication ceremony for the newly constructed Dan Overly Boardwalk connecting the Mississippi Craft Center in Ridgeland, MS and the Natchez Trace Parkway will be held on October 11, 2016. Dubbed "Somewhere Over the Boardwalk," the ceremony will begin at 5:30 pm at the Mississippi Craft Center and will be followed by a reception with refreshments, open house and demonstrations in the various craft studios. Ridgeland Tourism, Regions Bank, Waggoner Engineering and the Craftsmen's Guild of Mississippi sponsor the event, which is free and open to the public.

The Craftsmen's Guild of Mississippi, which operates the Mississippi Craft Center, received a recreational trail grant from the Mississippi Department of Wildlife, Fisheries & Parks to build the raised boardwalk that was constructed by Mayrant & Associates of Jackson. The cash and in-kind local match for the grant was supplied by Headwaters, Inc., the Natchez Trace Parkway Association, C Spire Foundation and Ken McLemore Restoration. Headwaters, Inc. of Ridgeland conducted a comprehensive 18-month Environmental Assessment of the site before a construction permit was granted by the National Park Service. Representatives from the 12 Native American tribes with interests in the site and the Mississippi Department of Archives & History were also consulted.
Named in honor of the Craftsmen's Guild's first executive director, the Dan Overly boardwalk provides enhanced access to the arts, cultural, historical and recreational assets of the Natchez Trace/Reservoir area. In addition to direct access to the Craft Center, the boardwalk gives visitors a clear view of sunken portions of the Old Natchez Trace and Carroll's Road, two of Mississippi's earliest wagon roads from the early 1800's.
The boardwalk connects the Craft Center to the Brashear's Stand stop on the parkway, a reference to the large inn that offered overnight accommodations to Trace travelers near the intersection of the two roads. Andrew Jackson and his troops used the inn and camped on its grounds during the War of 1812.
The boardwalk provides an additional access point to the area's multipurpose recreational trails. Runners, walkers and cyclists are invited to park at the Mississippi Craft Center to access the trails.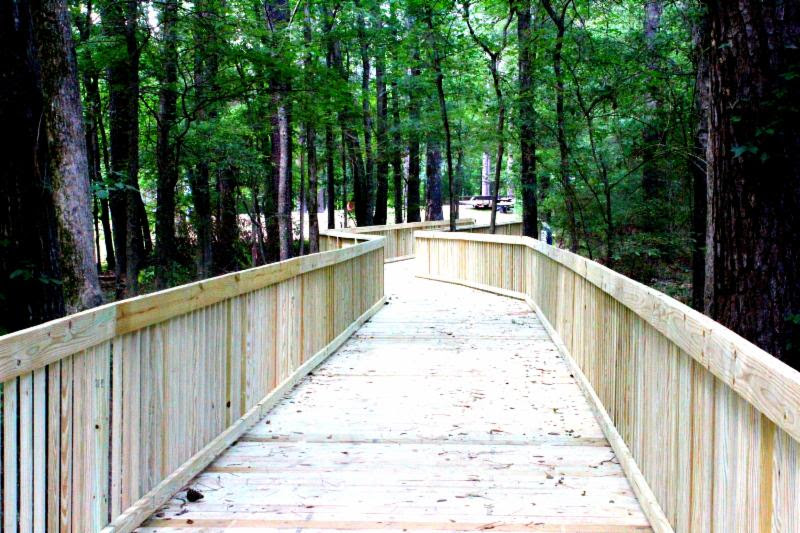 The event also celebrates completion of two new parking lots with access from Rice Road that were funded with federal funds from the Mississippi Department of Transportation. The Mississippi Legislature and the City of Ridgeland supplied the local match. The City of Ridgeland and Waggoner Engineering supervised the project that was awarded to Theobald Construction of Vicksburg. The completed project gives the Craft Center almost 100 additional spaces to use for large events.
For more information, visit mscrafts.org.