Why You'll Love RVing the Natchez Trace Parkway
The Natchez Trace Parkway is popular for RVers, motorcyclists, cyclists, and travelers alike. No commercial traffic is allowed on the Trace, and its smooth roadway and 50 MPH speed limit makes it a leisurely travel experience. The 444 mile scenic route takes you through woodlands, meadows, and hills, past waterfalls, historic sites, and across rivers and streams. Indians, explorers, frontiersmen, soldiers, boatmen, bandits, adventurers, and pilgrims have walked its length. Traveling it with a recreational vehicle (RV) is an exciting and memorable experience.
RVs are a popular way to see the Parkway for many reasons. Frequent pullouts provided at historic and scenic points of interest will accommodate even the largest RV. Plus, there are free campgrounds along the Trace on a first come basis. Commercial campgrounds can be found just off the Parkway all along its route.
Most stops along the Natchez Trace Parkway are accessible to RVs, with the exception of those marked "no circular drive". The following sites are not accessible to RVs:
Grindstone Ford/Mangum Mound at milepost 45.7 (height restriction of 11 feet 6 inches)
Twenty-mile Bottom Overlook at milepost 278.4
Old Trace Drive at milepost 375.8
Devil's Backbone State Recreation Area at milepost 394
Old Trace Drive at milepost 401.4
The length restriction for RVs is 55 feet, including a tow vehicle, and the height restriction is 14 feet. The Parkway can accommodate an RV weighing up to 40,000 pounds.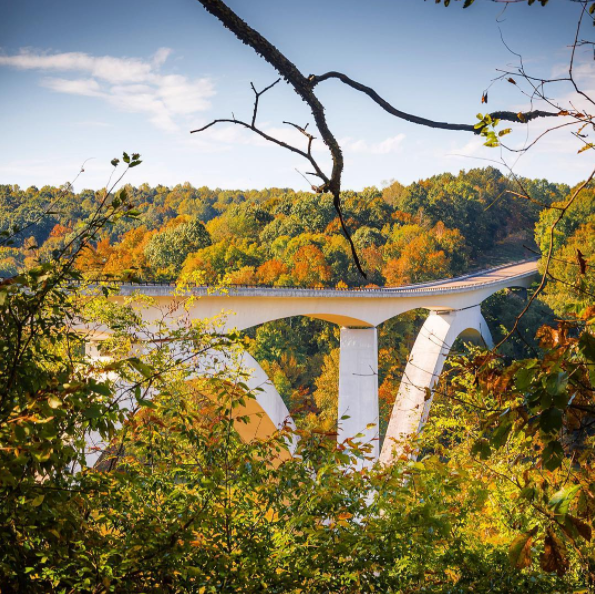 So why should you try exploring the Natchez Trace in an RV?
The Nature: If you're interested in the great outdoors, a RV is a great way to vacation. You can tour famous landmarks, visit state and national parks off the Trace, and simply enjoy fresh air and natural settings. Take a hike. Ride your bike. Get some exercise or simply do nothing, except your surroundings, of course.
Autumn is a great time to visit the Trace and experience the gorgeous fall foliage as well. As the maple, hickory, oak and other hardwood trees change colors, the 444-mile route paints a stunning color backdrop for its visitors.
The Campgrounds: There are more than a dozen campgrounds along the Natchez Trace Parkway corridor, three in the park, and many others just outside the park. The three Parkway campgrounds are free, primitive, and available on a first come, first serve basis. Keep in mind: they do not offer electricity, showers, or dump stations.
These campgrounds are spread out along the Parkway: Rocky Springs (Milepost 54), Jeff Busby (Milepost 193.1) and Meriwether Lewis (Milepost 385). Many of the other campgrounds along the Parkway corridor offer electricity, showers, and dump stations. Many also have hiking trails and biking paths, perfect for fun family activities.
Check NPS' complete updated list of all the campgrounds along the Parkway for the locations and services offered by private and public campgrounds.
The Comforts of Home: With a RV vacation, you can have the best of both worlds. You can enjoy the great outdoors with more comforts than tent camping. Whether you own a RV or try a rental, most RVs are well equipped. You'll likely have a kitchen with microwave, fridge and stove, television, beds, living and dining areas, and a bathroom with shower. Many RVs have slide out rooms that increase the living area. You can sit outside under your awning, get out of the rain if the weather changes, and turn on the A.C. if it gets too warm.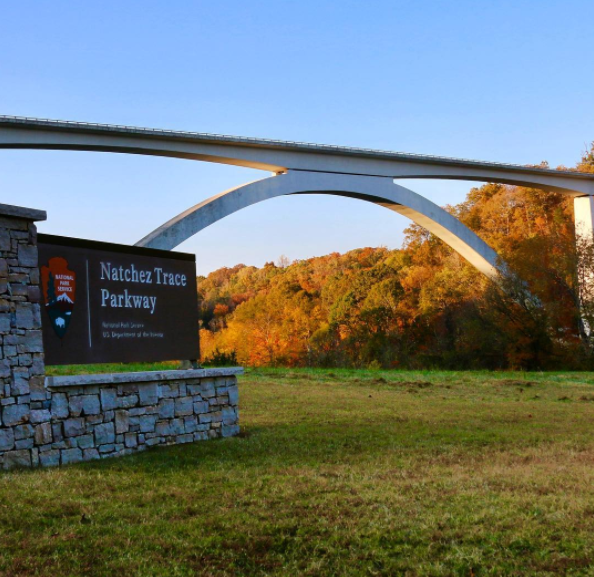 The Family: Family members of all ages tend to connect with each other when they are away from their normal routine enjoying a simpler lifestyle. While the RV is comfortable, it's a small living area for large families. If you are renting, bear this in mind in choosing the size of your rental RV. During the day, spend time outdoors or in different activities. There are many fun recreational activities along the Natchez Trace!
The Kids: A RV vacation can be a fantastic way to travel with children. They can go out to play or take part in campground activities. There are likely to be other kids to meet and new places to explore. Children of all ages will enjoy an old-fashioned campfire complete with stories, songs and stargazing. And most kids think it's pretty cool to be in a "home on wheels." RVing tends to bring the family closer together with more communication and the sharing of good times.
The Affordability: The question of whether it's cheaper to take a RV vacation doesn't have a "one size fits all" answer. It depends on the type of vacation you want to take, as well as the way in which you plan to RV. You can compare the costs of renting a suitable RV to the costs of hotels, airfare or other means of travel. Many visitors like to cook and roast s'mores and hotdogs over campfires–not only is this affordable, but it adds to the RVing experience!
The Driving Experience:  Driving yourself gives you control over where you go and the pace of your travel. You don't have the hassle of airline counters and keeping up with schedules. You can stop and take a break when you choose. You don't need a special license to drive an RV. Sure, it takes some getting used to — but the number of RVs on the road should tell you that it's doable. If you feel the need to, practice before you load up your passengers.
The Flexibility: In an RV, you have the flexibility to change locations. It's easy to find a good balance between seeing different areas, the amount of time spent driving and ensuring you have enough time to relax. An RV can give you a lot of freedom and spontaneity. Explore at your own pace and create your own adventures!
Ready to plan your trip? Get started right here, right now.
Get social with us and follow The Natchez Trace on Facebook, Twitter, and Instagram!