From Natchez, Mississippi to Nashville, Tennessee, the Natchez Trace Parkway is a 444-mile drive through exceptional scenery. You wouldn't get the full experience of the Parkway if you didn't stop at one of the many scenic overlooks.
Take a look at some of places you will encounter a breathtaking view during your Natchez Trace journey!
Mississippi
Twentymile Bottom Overlook near Tupelo is located on the Natchez Trace Parkway at milepost 278.4. Twentymile Bottom, now cultivated, was typical of the many low areas along streams through which the Natchez Trace passed. From the overlook you can see the bottom land of Twentymile Creek. This land is typical of the terrain encountered by early travelers of the Natchez Trace.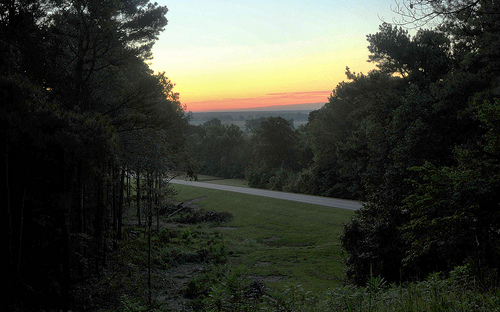 In 1812, Reverend John Johnson stopped at old Factors Stand near this bottom and wrote this account of bottomland travel, "I have this day swam my horse five times, bridged one creek, forded several others besides the swamp we had to wade through. At night we had a shower of rain. Took up my usual lodging on the ground in company with several Indians."
Reservoir Overlook offers spectacular views of the Ross Barnett Reservoir in Ridgeland. The lake features 105 miles of shoreline by a 3.5-mile man-made dam and spillway. The western shore is bounded by the Natchez Trace.
Bicyclists, walkers and joggers can access the Multi-Use Trail from Reservoir Overlook at milepost 105.6. Walk or bike for miles and miles! The greenery along the trail allow visitors to truly enjoy the outdoors.
Old Town Overlook: Located at milepost 263.9, hikers can continue north for 2 miles to reach the Parkway Visitor Center, or continue south for 2 miles to reach the Chickasaw Village Site. This section of Scenic Trail is open to hikers only, and requires walking on the Parkway for road and creek crossings. The Old Town Overlook parking area is one point of access to the Tupelo section of the Natchez Trace National Scenic Trail.
Black Belt Overlook: Ages ago, this area was under an arm of the ocean. Shells and other marine organisms were deposited to form limestone. Exposure of the limestone to all types of weathering gradually changed it into a heavy fertile soil of various colors. The dominant black soil has given the area the name black belt, or black prairie.
Located at milepost 251.9, the black belt extends south beyond Columbus, MS then heads eastward across nearly all of Alabama. Formerly one of America's great cotton areas, it is now considered excellent pasture for livestock.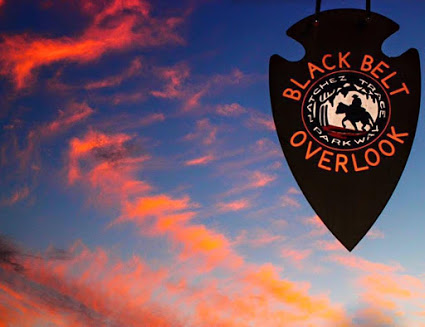 Alabama
Freedom Hills Overlook: Located at milepost 317, this is a great place to take in Alabama's scenic views. On the way up the trail, there are two benches where you can rest before continuing on up the hill. Another bench is placed conveniently at the top of the trail. Be sure to snap a photo!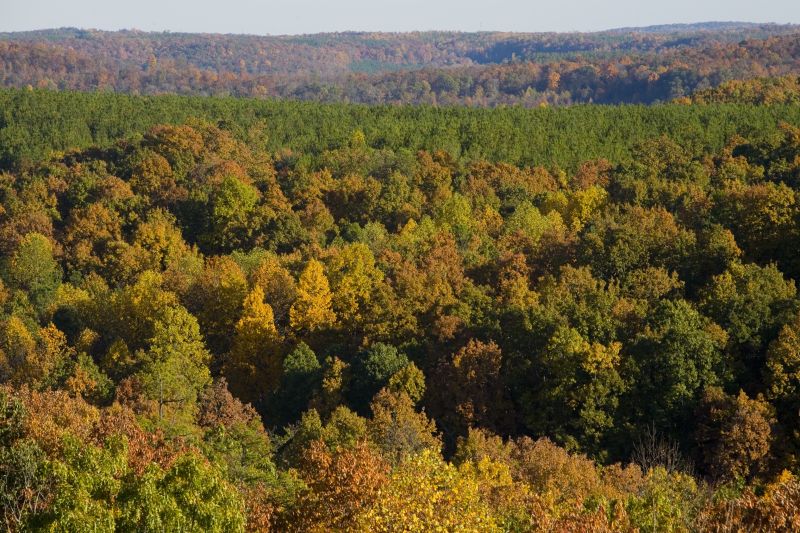 Tennessee
Baker Bluff Overlook: This is of the most scenic views along the Trace at milepost 405.1. It overlooks the Duck River and fertile farmland typical of this area. A hiking trail leads you from Baker's Bluff to Jackson Falls, a sparkling waterfall. Every nature-lover's dream!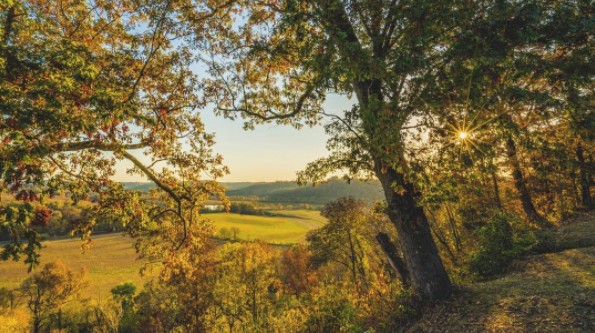 Double Arch Bridge Over Birdsong Hollow: Located at milepost 438, the Natchez Trace Parkway Double Arch Bridge won the Presidential Award for Design Excellence in 1995. It spans Birdsong Hollow and Tennessee Highway 96, and is a popular spot for viewing Tennessee's beauty.
Swan View Overlook: This overlook is located on the Natchez Trace Parkway at milepost 392.5. From here you can see the water tower in Hohenwald, Tennessee, the highest town between New Orleans and Chicago.
Water Valley Overlook: Water Valley Overlook is located at milepost 411.8. Take the time to pull off the Trace and drive up the short road to the top of the ridge. From the top you will be rewarded with a 180 degree view of Water Valley.
So come unwind and enjoy nature's beauty displayed all along the 444-mile Natchez Trace Parkway. Visit scenictrace.com/plan-your-trip to get started.
Follow @TheNatchezTrace on Facebook, Twitter, and Instagram for photos, news and to share to your journey with us!