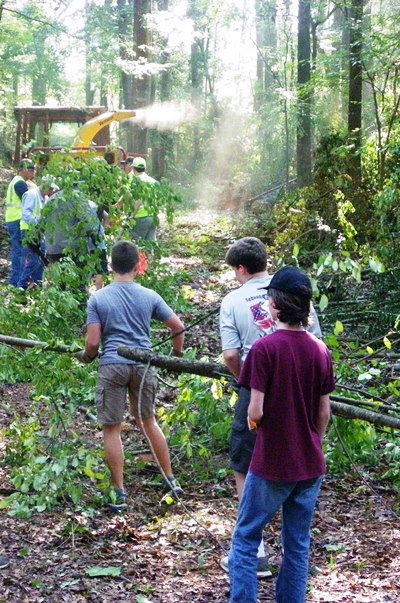 RIDGELAND, MS:  Volunteers from the Natchez Trace Parkway Association, Boy Scouts of America Troop (Andrew Jackson Council), and the Craftsmen's Guild of Mississippi helped rehabilitate a section of the Old Natchez Trace on Saturday, August 6, 2016.  A group of 23 youth and adults worked together to help Parkway employees Charles Coody, Ray Miller, Tim Davis, and Spencer Woods remove overgrown non-native vegetation from the Old Trace corridor.
The National Park Service (NPS) has an inventory of all of the historic and prehistoric structures that it maintains. This section of the Old Trace was classified as being in poor condition. The work accomplished during this project raised the condition assessment of this Old Trace section from poor to good.
"Our local volunteers provide critical support in improving trails and providing visitor services at the Parkway," stated Superintendent Mary Risser. "This project is especially exciting because the volunteers played an essential role in preserving an important part of not only the region's, but also the nation's history."
Each year, volunteers donate thousands of hours to assist staff at the Parkway. For more information on becoming a volunteer or to learn about volunteer opportunities please visit www.volunteer.gov.  For more information on the Natchez Trace Parkway, visit www.nps.gov/natr.