Natchez Trace Named Among Top Ten Fall Foliage Getaways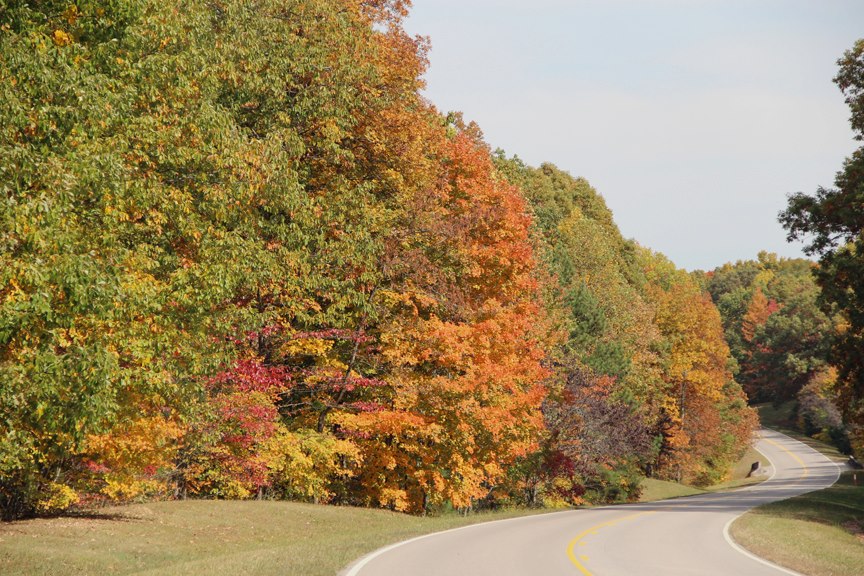 For those of us that have checked out the changing fall colors on the Natchez Trace Parkway before, it should come as no surprise that people far from the 444-mile scenic byway are beginning to take notice of its beauty. The latest converts are the folks over at Condē Nast Traveler, where the Trace was recently highlighted as one of "The Ten Best Secret Fall Foliage Getaways!"
Take a look at these stunning fall photos and start planning your trip.
Now, we know that it may be just a tad bit early until the fall colors really start to show in late October – early November, but we are excited about the amazing display of color coming our way. Let's have a sneak peak at what we can look forward to!
While there's no way to totally determine the best time and place for fall foliage since each year can be different, the northern sections of the Trace between Tupelo, MS and Nashville, TN in mid-November have offered some of the most stunning views.
Want to know how things are looking before you make the drive over? Just mosey over to the fall colors guide brought to you by our friends at the National Park Service.
In addition to gorgeous foliage, the Trace offers cyclists a great route for riding, attractions and recreational activities for the whole family, and interpretive sites that'll peak any history buff's interest. Along either side of the Natchez Trace Parkway, visitors can stop for a good night's rest at the quaint B&Bs and hotels available. And, of course, we can't forget to mention the delicious (and we mean DELICIOUS) restaurants along the way, too. If you love to eat, be outdoors, and see stunning and fascinating attractions, the Natchez Trace Parkway is for you. So get out there, and fall in love with the Trace!
Want to see more fall foliage photos or post your own? Give us a follow on Facebook, Twitter, Pinterest, and Instagram @TheNatchezTrace and hashtag #TheNatchezTrace
Download your free Visitors Guide HERE