Lonely Planet Features Natchez Trace Parkway in Fall Issue
Winding 444 miles through three states and thousands years of American history, the Natchez Trace Parkway takes you places you'll never forget. This scenic parkway links Natchez with Nashville and crosses some of the most beautiful terrain in the states of Mississippi, Alabama, and Tennessee.
Visitors can experience a rich array of wildlife, sparkling waterfalls, memorable hikes and historic sites. The Trace is especially gorgeous in fall, when the hardwoods lining the roadway explode in color. Visitors come from all over the country to experience this unique journey and explore the Parkway's natural, historic wonders.
Declared a National Scenic Byway and open year-round, it's no wonder visitors are taking notice. One in particular is none other than Lonely Planet, a trusted travel media company and the world's leading guidebook publisher.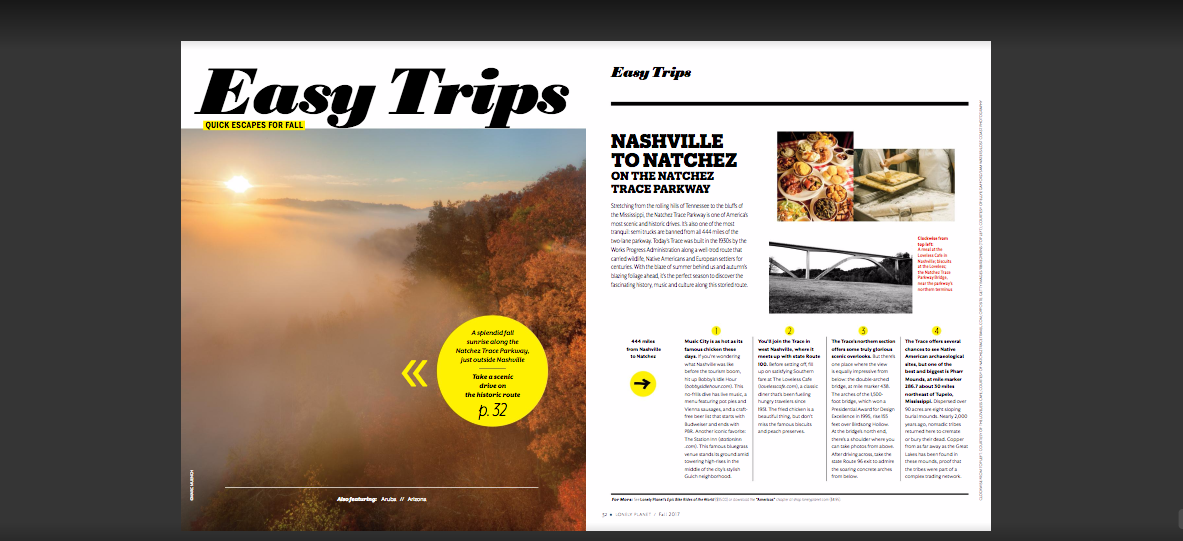 If you're interested one of the "the best quick trips you can book right now," you simply can't go wrong with the Trace. Featured in Lonely Planet's Easy Trips section in their 2017 Fall issue, the Natchez Trace Parkway offers a unique journey for all types of travelers: foodies, history buffs, music lovers, outdoor enthusiasts… or just your average couple or family looking for a weekend getaway — hence the "easy trip" label!
Quick Escapes for Fall
To check out Lonely Planet's favorite Parkway stops listed in their Fall 2017 issue, flip to the sampler on page 16. (Note the final published article is page 32-33.) You can also read Huffington Post's highlight of the article here!
What's To Love About The Natchez Trace
Adventuring out on the scenic Trace is an easy-going, easy-to-love experience. Open year-round for motorists, hikers and bikers, it provides visitors the opportunity for an unhurried trip through time.
The Natchez Trace provides a near-continuous greenway from the southern Appalachian foothills of Tennessee to the bluffs of the lower Mississippi River. Along the way are sites like Emerald Mound, a national historic landmark and one of the largest American Indian mounds in the U.S. as well as Mount Locust, one of only two surviving stands.
The Parkway also crosses four ecosystems and eight major watersheds, and provides habitat for 1,500 species of plants, 33 mammal species, 134 bird species, and 70 species of reptiles and amphibians. Designated as a National Scenic Byway and All-American Road, the 444-mile route encourages modern travelers to experience historic and scenic landscapes at a leisurely pace.
With autumn just around the corner, it's one of the best times to experience the gorgeous fall foliage displayed along the way. Take a look at some of these 2016 photos.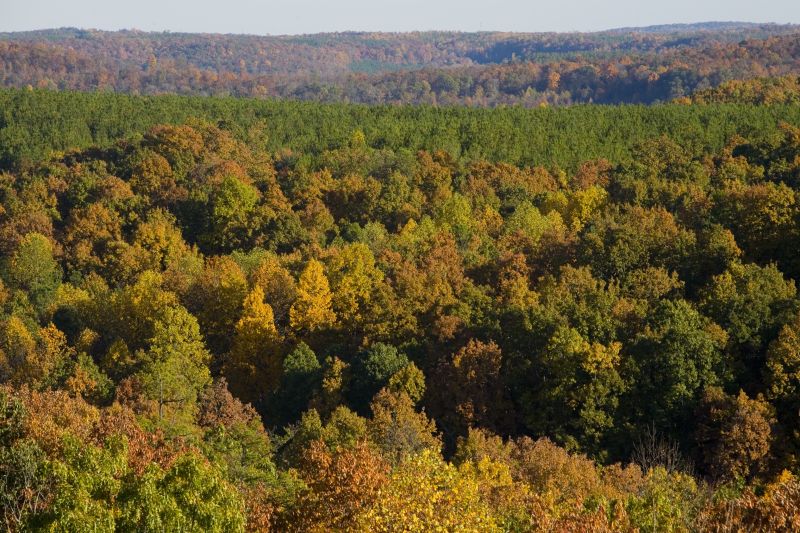 Plan Your Trip
For brochures, maps, and travel itineraries, get started right here, right now! Be sure to download your free Visitor Guide.
Follow The Natchez Trace on Facebook, Twitter, Instagram, and Pinterest to stay up-to-date and share your travel pics! Watch some of our videos here.