Mystery on the Trace: The Death of Meriwether Lewis
There are tons of incredible historic sites along the 444-mile scenic Natchez Trace Parkway. From Natchez, Mississippi to Nashville, Tennessee, literally thousands of years and millions of travelers have worn the road from a thin wilderness trail to an utterly cruise-able modern byway. History is alive at every twist and turn. One of the most interesting sites is the grave and monument of Meriwether Lewis, a man who met a mysterious demise along the Trace over 200 years ago.
At milepost 385.9 you'll find the Meriwether Lewis Monument and Gravesite. Meriwether Lewis, most famous as Captain of the Lewis and Clark Expedition, is buried here beneath the monument at Pioneer Cemetery. It is here near the site of Grinder's Stand where Lewis died a mysterious death. History is yet to definitively solve the question: was it murder or suicide? Read on for this interesting story…
In September of 1809, Lewis set out on a cross-country journey to Washington, D.C. Lewis had quite a way to go as he left St. Louis, where he was serving as Governor of the Upper Louisiana Territory. He had recently run into ruinous debt after the War Department denied reimbursement for drafts he had ordered as Governor. Lewis aimed to set things straight in the Capitol.
On his way, Lewis stopped for the night at Grinder's Stand, an inn near Hohenwald, Tennessee. In the predawn hours of October 11, 1809, the innkeeper's wife Priscilla Griner reported hearing gunshots near Lewis's cabin. Servants found Lewis gravely injured by two shots – one in the gut and one to the head. Meriwether Lewis succumbed to his wounds shortly after sunrise that morning.
No one saw what happened, and it didn't take long for rumors surrounding his death to spread. Had Lewis's grave debt, among other factors, contributed to his suicide? Had assassins or robbers killed the famous explorer?
The story truth was further obfuscated by contradictory accounts of the morning contributed to Mrs. Griner. For instance, in one account Lewis was found in his cabin after sudden gunshots. In another account, the fearless explorer was found wounded outside of his cabin after an audible scuffle with unknown men. A Nashville paper even reported that his throat had been cut.
Mrs. Griner did claim that Lewis behaved strangely during the dinner before his death, noting that he paced heavily and spoke to himself while looking very flush in the face. He had reportedly had trouble finding a wife, struggled with alcohol, and recently had a falling out with President Thomas Jefferson. He had also attempted suicide previously in his journey.
On the other hand, robbers and killers were quite common along the early Natchez Trace. Many people met their end at the barrel of a highwayman's pistol. The sum of Lewis's money was missing from his cabin and an 1848 postmortem conducted by the Tennessee State Commission concluded that Lewis likely died "by the hands of an assassin."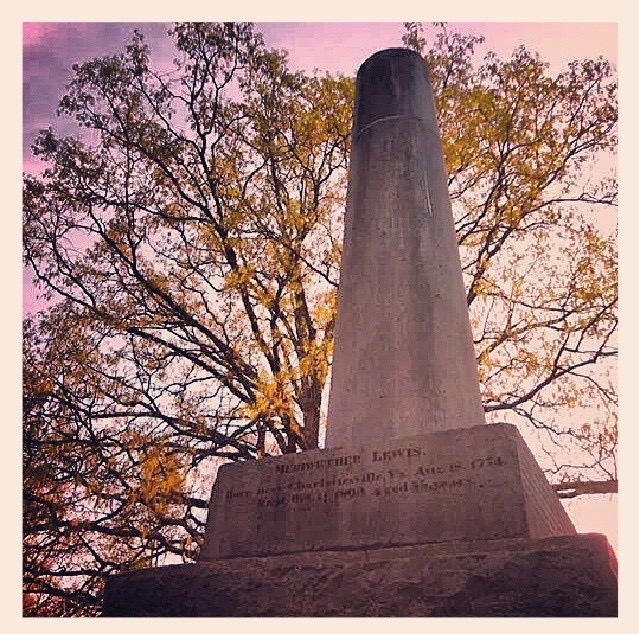 Although historians debate the circumstances of Meriwether Lewis's death to this day, one thing is certain: Lewis's death was an unfortunate early end to the life of one of America's greatest explorers and a brave and tireless adventurer. When you travel the Trace today, you will literally follow the footsteps of this incredible individual. While you're out there, take a moment to pay your respects to Meriwether Lewis and the countless other souls that dared to trod the rugged path below your feet.
Ready to explore the mysteries of the Trace? For more information on the Natchez Trace and its unique history, visit www.scenictrace.com. For more photo and updates, follow us on Facebook, Twitter, and Instagram @TheNatchezTrace