Love Nature? Then You'll Love The Natchez Trace
Nature fans all over know that the Natchez Trace Parkway is the place to experience the beautiful outdoors. Out of the 52,000 acres of Trace, almost 39,000 of those are maintained in a "natural" condition. That means you'll find bountiful forests, non-agricultural fields, and open water. The Natchez Trace is exceptional from a natural resources standpoint. Over its length it crosses four ecosystem provinces, eight major watersheds, and twelve physiographic regions.
Whether you're hiking, fishing, camping, cycling, or just taking a leisurely drive along this 444-mile scenic byway, natural beauty, wildlife and outdoor recreation all await you…
Let's take a look at some of the natural highlights of the Natchez Trace:
You can find over 136 types of birds, from jewel-toned hummingbirds to lumbering flocks of wild turkey to graceful, long-limbed blue heron.
More than 2000 types of plant species, including hardwoods, conifers, old growth and new, from lacy spring dogwood blooms to knobby cypress knees breaking black swamp water to the blaze of fall colors on towering maples and oaks.
Over 200 mammals, herptiles, and fish species, including deer, fox, armadillo and coyote, and eight species federally listed as threatened or endangered.
Over 25 nature and guided trails that range from 1/8 to 2.5 miles for your hiking enjoyment.
Five hiking sections of the Natchez Trace National Scenic Trail connected by the Parkway, totaling over 60 miles.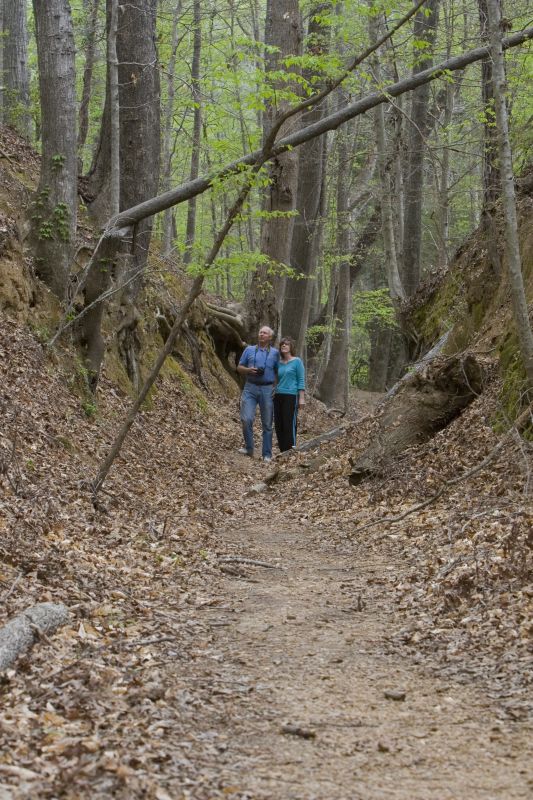 Near Port Gibson, Mississippi, you can visit the "Sunken Trace," a portion of the Old Trace pounded so deep by years of human and animal traffic that riders on horseback would often disappear from view below the ground.
Or you might choose mysterious site of Cypress Swamp near Canton, Mississippi, where the knobby trees share its dark waters with reclusive alligators. (Don't worry, you're plenty far away as you walk above the water/tupelo cypress swamp on an elevated boardwalk.)
Maybe you prefer the majesty of endless acres of still water. From the Ross Barnett Reservoir in Ridgeland, Mississippi to Colbert Ferry in Tuscumbia, Alabama, you can find exciting opportunities for fishing and water fun under the sun.
If flowers and foliage are your thing, you're in for a real treat! During springtime on the Natchez Trace Parkway, enjoy the blooming dogwoods and redbud trees. Come autumn, the gorgeous fall foliage is a must-see on the Trace. Birdsong Hollow and HWY 96 Double-Arched Bridge in Franklin, Tennessee is a great place to view the scenery.
No matter what season you travel, your journey will consist of rural farms, wooded hills, and breathtaking overlooks.
The natural world of the Natchez Trace is truly picture perfect. To get the most out of your Parkway explorations, we suggest you bring binoculars and hiking boots. And yes, you'll want to take plenty of pictures to capture all that perfection as you make new memories! Post your photos to social media and tag @TheNatchezTrace and hashtag #TheNatchezTrace and we might share 'em! Give us a follow on Facebook, Twitter, Pinterest and Instagram to see more stunning photos of the Natchez Trace and join the conversation!
Winding 444 miles through Mississippi, Alabama and Tennessee, there are so many places to experience the wonderful nature on the Natchez Trace Parkway! Be sure to download our 2015 Visitors Guide HERE.
Visit the National Park Service website to also learn more about the Natchez Trace Parkway. Thanks, NPS for helping provide some of this great info!