Celebrate National Park Week on the Historic Natchez Trace Parkway
The National Park Service is once again partnering with the National Park Foundation to present National Park Week, April 15 – 23, 2017, and you are invited to join us in the fun celebration on the Natchez Trace Parkway!
If you don't know much about this exciting annual observance, let us fill you in… National Park Week is America's largest celebration of national heritage. It's about making great connections, exploring amazing places, discovering open spaces, enjoying affordable vacations, and enhancing America's best idea—the national parks!
Discovering all the Natchez Trace has to offer is THE perfect opportunity to treasure what this week is about: Natural wonders, wildlife, cultural heritage, and historic preservation…
As we join the NPS in celebrating 101 years of protecting and preserving the nation's parks and monuments, we encourage you to also #FindYourPark! Each one of the 417 national parks is a thread in the tapestry that tells the story of our country – its beautiful landscapes, diverse culture, and rich heritage – including the historic Natchez Trace.
National Park Week 2017 Events:
April 15: "Beavers: Making a Splash"
A special Junior Ranger program to be held at the Parkway Visitor Center (milepost 266) on Saturday, April 15 at 10:00 am. Join a park ranger for this 45-minute program to learn how beavers are perfectly adapted for this difficult job, and make your own craft beaver to take home. This program is ideal for kids 7 to 12 years old, but everyone is welcome.
April 22: The BioBlitz and Wildlife Festival
Held at the Parkway Visitor Center (milepost 266) on Saturday, April 22 from 9:30 am-4:00 pm. The festival is a great time to get outdoors and celebrate biodiversity. Enjoy the Parkway's natural spaces by going on discovery walks with scientists as they record species. Assist them and learn interesting facts about the plants and animals that live in your own backyard!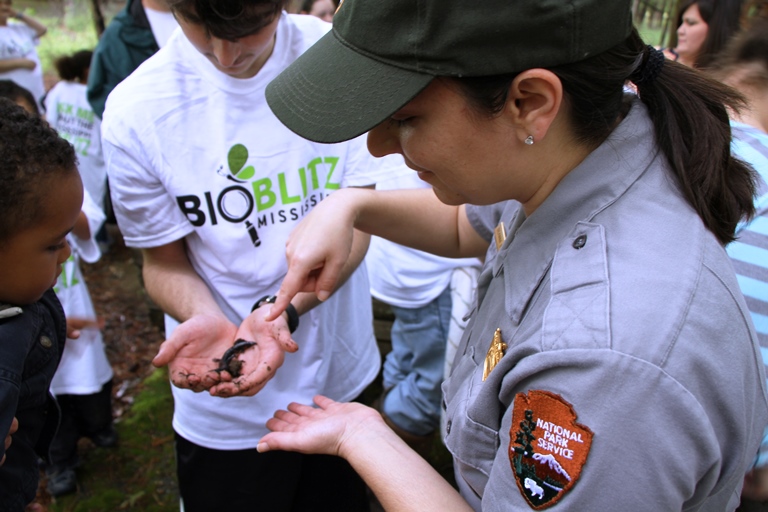 At the Visitor Center, visitors can learn more about Mississippi's biodiversity by visiting exhibit booths that include live fish, hunter education, wild mammals, wildlife rehabilitation, endangered bats, Mississippi black bears, pollinators, and more. Plus, award-winning educator Terry Vandeventer will present "Live Native Snake" programs! Oh my! For all presentations and times, contact NPS at (800) 305-7417.
Other highlights during National Park Week 2017:
April 22: Earth Day
Join a volunteer project or simply enjoy the natural wonders and wildlife preserved in national parks.
April 23: Park Rx Day
Get healthy and active with a ranger-led program, or with family and friends. Learn more.
April 23: Volunteer Recognition Day
Find volunteer opportunities at a national park at www.volunteer.gov
In addition to celebrating rich heritage, lush shade and a curving scenic road make the Parkway a pleasant route for motorists and bicyclists. These enjoyable features can sometimes reduce visibility — new bicycle safety signs, funded by the Natchez Trace Parkway Association Gary Holdiness Cycling Fund, will raise motorist awareness and remind drivers that cyclists also use the road. Learn more about the project from NPS.
We hope you join a lot of Natchez Trace fun this April during National Park Week! Learn more about outdoor recreation, foliage & wildlife, cultural heritage, and fascinating history along this 444-mile unique journey from Natchez to Nashville.
Ready to plan your trip?
Check out our travel itineraries, Interactive Map, and even plan your own itinerary here. Download your free digital Visitors Guide or request to have one mailed.
#FindYourPark and follow The Natchez Trace on Facebook, Twitter, Instagram, and YouTube!