Popular Attractions along the Natchez Trace Parkway
The Natchez Trace Parkway is a beautiful, 444-mile scenic byway linking Natchez with Nashville. The historic route crosses some of the most beautiful terrain in Mississippi, Alabama, and Tennessee. There are so many interesting and cultural highlights to visit on the Trace that it's hard to decide where to start and what to see. Allow us to help!
Starting from Natchez, Mississippi at the southern end and heading northbound for Nashville, Tennessee, here are some of the most popular points of interest.
Mississippi
Emerald Mound (milepost 10.3) is the second largest Mississippian period ceremonial mound in the country, and the largest mound along the Parkway. Here, glance into the story of Mississippians who lived along the Natchez Trace years ago.
At milepost 15.5 is Mount Locust, one of the original stands left from the frontier days in the early 1800s. Just like some of the first American travelers, you can take a break for a little rest and refreshment.
The Sunken Trace at milepost 41.5 is one of the most photographed sites along the Parkway. Here you'll find the trail in its original state, deeply eroded by years of boots, hoofs, and wagon wheels. Walking this short trail today is like taking a step back in time.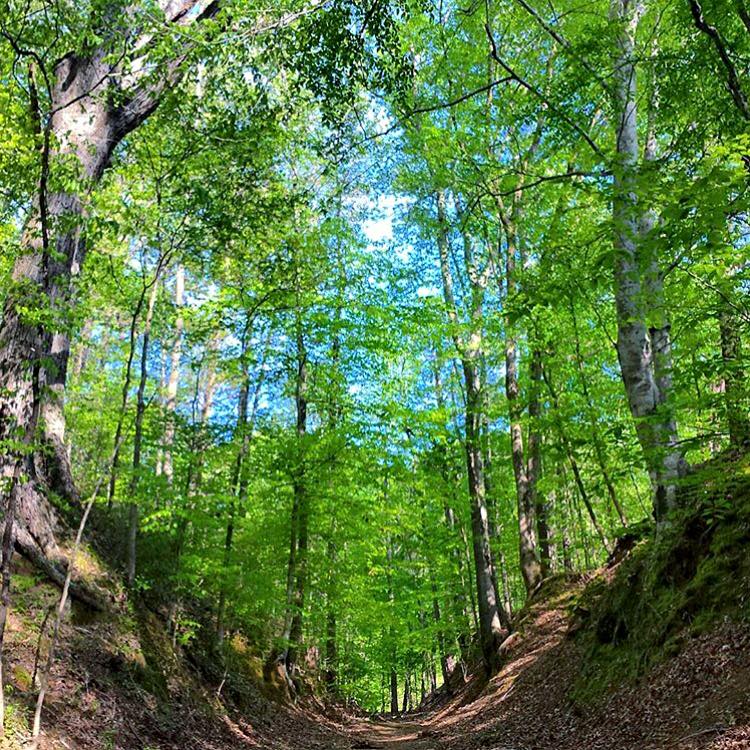 The Ross Barnett Reservoir in Ridgeland parallels the Parkway for about eight miles and provides gorgeous scenery. Enjoy the waterfront views from your vehicle, or take it all in at Reservoir Overlook (milepost 105.6).
Cypress Swamp at milepost 122.0 offers a half mile of elevated walking paths above an old, low land swamp. See if you can spot an alligator lurking by (like this guy!)
The Natchez Trace Parkway Visitor Center (milepost 266.0) is a must-stop spot as its staffed everyday (except Christmas) with helpful hands of NPS Park Rangers. They're available to give you direction, historical background, and answer your questions. Stick around to watch a 12-minute film about the cultural history of the Trace.
A short walk on the Old Trace at milepost 269.4 takes you to 13 Confederate gravesites. The identity and cause of death of these 13 Confederate soldiers remain a mystery.
Just up the road at milepost 286.7 you'll find Pharr Mounds, an ancient Native American burial mounds up to 2,000 years old. It's considered the most important archaeological site in North Mississippi.
Alabama
Today at milepost 327.3, you'll find a bridge over the Tennessee River. But in the early 1800's, George Colbert operated a ferry across the river. This is a beautiful and relaxing spot to have a picnic by the river.
Rock Spring Nature Trail is a short half mile loop trail at milepost 330.2. Walk the stepping stones at the Rock Spring Nature Trail to see views of Colbert Creek–a visitor favorite!
Tennessee
Visit the Meriwether Lewis Monument at milepost 385.9 to learn about the life of one of America's great explorers. Step into a cabin to find interpretive displays about the life of Meriwether Lewis. You can also check out the campground, picnic area, and hiking trails.
Everyone loves waterfalls! At Fall Hollow (milepost 391.9), enjoy a path and set of wooden bridges that take you across the small creeks before they begin their tumbling descent. Continue to the observation deck where you can look down at a large, sparkling waterfall.
The Tobacco Farm and Old Trace Drive at milepost 401.4 is a great place to hop off the main route and get on the Old Trace. This attraction has interesting information about tobacco growing. The two-mile drive on the Old Trace has nice views of the forest, as well.
At milepost 404.7, visit a waterfall named after Andrew Jackson. Jackson Falls can be reached by a short but steep trail. Take in the views, then choose to walk far down the trail to a small gorge. Your return trip will be a little laborious, but well worth it! Relax at the trailhead's picnic tables, or leisurely enjoy the short trail to Baker Bluff Overlook (milepost 405.1).
Finally, no Trace journey is complete without a gander at Birdsong Hollow (milepost 438). This popular spot has an amazing view of the Parkway's double-arched bridge. You'll discover for yourself why this stunning bridge won the Presidential Award for Design Excellence.
So there you have it: our top attractions you should visit during your Natchez Trace Parkway trip!
Download your the free Visitors Guide. To see photos and stay up-to-date with what's new, follow @TheNatchezTrace on Facebook, Twitter, and Instagram.