Yes! You can Recharge Your EV and Travel The Trace
Recharge on the Natchez Trace Parkway  
While the popularity of driving electric cars is growing, charging stations are few and far between. Recharging on the Natchez Trace Parkway has been made easy and stress-free with over 10 charging options from Tennessee to Mississippi. Traveling outside of a big city can be difficult and inconvenient when driving an electric car. We at the Natchez Trace Parkway are here to ease your anxiety, because throughout the 444 miles, 3 states, and over 20 communities along the route, we have the necessary charging stations for YOU!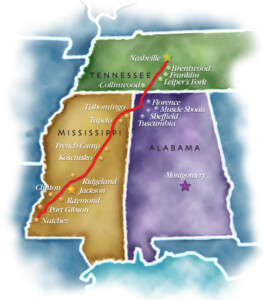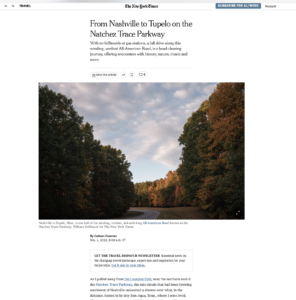 As mentioned in The New York Times, "For those who are ready to hit the road in an all-electric car, the Natchez Trace Compact, a group of communities along the parkway that promotes travel, has compiled a list of battery-charging stations in nearby towns."
PlugShare.com – Plug Share offers you a searchable database based on your location
Below are some specific locations to keep in mind when planning your trip along the Trace.
Ridgeland, Mississippi:
Tesla ChargePoint Charging Stations
Mercedes-Benz of Jackson
455 Steed Road
Ridgeland, MS 39157
Tesla Destination Charger
Embassy Suites
200 Township Avenue
Ridgeland, MS 39157
Tesla Destination Charger
SpringHill Suites
121 Southtowne Avenue
Ridgeland, MS 39157
Electric Cooperatives of Mississippi
665 Highland Colony Parkway
Ridgeland, MS 39157
Cadillac of Jackson
700 Adcock Street
Ridgeland, MS 39157
Residence Inn
855 Centre Street
Ridgeland, MS 39157
Jackson Mitsubishi
1860 E County Line Road
Ridgeland, MS 39157
Tupelo, Mississippi:
Tesla SuperCharger
Mall at Barnes Crossing
1001 Barnes Crossing Road
Tupelo, MS
Tesla destination chargers:
Hilton Garden Inn
363 East Main Street
Tupelo, MS
Red Roof
1516 McCullough Boulevard
Tupelo, MS
The Shoals of Alabama:
Franklin, Tennessee: